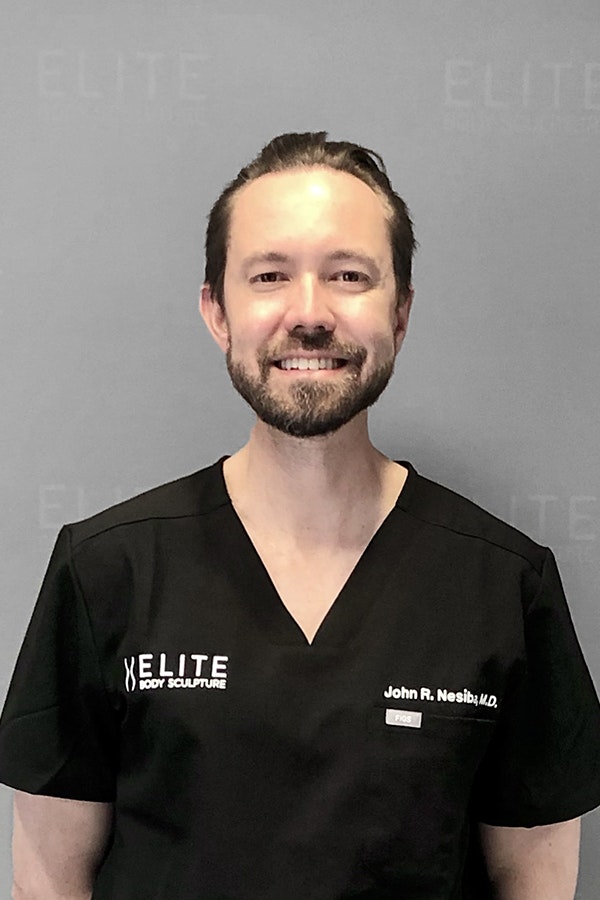 Dr. Nesiba is a Triple – Board Certified Surgeon. He is board certified by the American Board of Cosmetic Surgery, The American Board of Facial Cosmetic Surgery, and the American Board of Oral and Maxillofacial Surgery.
The opportunity to pursue fellowship training is extremely competitive, and Dr. Nesiba was selected by Dr. Erik J. Nuveen, a nationally and internationally known Cosmetic Surgeon. During his intensive training in general and facial cosmetic surgery at Cosmetic Surgery Affiliates in Oklahoma City, Dr. Nesiba completed over 1000 cosmetic surgical procedures, ranging from facelifts and blepharoplasty to breast augmentation and tummy tucks. During this time, he also served as a faculty member at the Oklahoma University Medical Center, working with numerous residents while they fulfilled their plastic surgery requirements.
Before his fellowship, Dr. Nesiba completed six years of surgical training at the Detroit Medical Center in Maxillofacial and General Surgery and earned his second doctorate in Medicine from Wayne State University School of Medicine in 2015. His time in Detroit focused primarily on two areas: facial reconstruction following trauma and orthognathic (jaw re-positioning) surgery. Advanced knowledge of head and neck anatomy and meticulous surgical skill are necessary to restore someone's face and smile. His understanding of form and function combined with his study of aesthetics gives Dr. Nesiba the ability to create customized treatment plans for each and every patient. Dr. Nesiba has completed a total of 9 years of surgical training, throughout which his passion has been in developing healthy relationships with his patients and providing a consistent and highly professional model of patient care.
Dr. Nesiba's interest in medicine started at a young age after he was diagnosed with Hodgkin's lymphoma. This experience has shaped his life and made him appreciate what it is like to be on the other side of a patient/doctor relationship. His goal is to ensure that you are safe, comfortable, and educated about your condition and your treatment options.