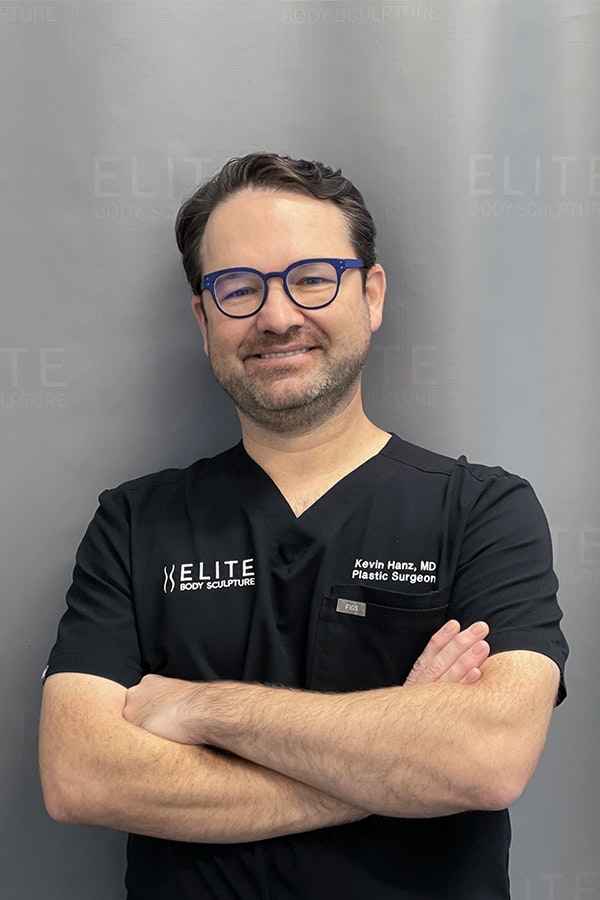 After over ten years of experience performing aesthetic and reconstructive procedures, Dr. Kevin Hanz developed a strong appreciation for the art of cosmetic medicine. His specialties include facial rejuvenation and body contouring. Dr. Hanz says, "Ultimately, every procedure is a collaborative effort between surgeon and patient. The patient articulates his or her goals and vision, and, as the surgeon, it's my job to combine the precision and artistry required to achieve the desired results." Since joining Elite Body Sculpture, Dr. Hanz has performed more than 100 AirSculpt® procedures. With a medical degree from the Case Western Reserve University School of Medicine, he is board-certified by the American Board of Plastic Surgery. At home, Dr. Hanz is an avid chef who enjoys sharing new culinary experiences with his wife and two daughters.
Curriculum Vitae
Board Certified:
American Board of Plastic Surgery, 2011
Memberships:
American Society of Plastic Surgery, Active Member
Texas Medical Association
Dallas County Medical Society
Training:
University of Texas Southwestern Medical School, Integrated Plastic Surgery Residency, 2002-2007
Case Western Reserve University School of Medicine, 2002
Publications:
Hanz, Kevin R. M.D.; Saint-Cyr, Michel M.D.; Semmler, Maynard J. O.T.R.; Rohrich, Rod J. M.D. Extensor Tendon Injuries: Acute Management and Secondary Reconstruction [CME]. Plastic and Reconstructive Surgery: Volume 121(3) March 2008, pp 109e-120e.
Pessa Joel E; Slice D E;

Hanz Kevin R.; Broadbent T H; Rohrich Rod J; Aging and the shape of the mandible. Plastic and reconstructive surgery 2008;121(1):196-200.
Hanz KR

and Riechel TL. Vanadium complexes in a lewis basic room temperature 1-ethyl-3-methyl-1H-imidazolium chloride/aluminum chloride molten salt. 36(18),

4024-4028, 1997.