Dr. Daniel Farrugia
Chicago and Edina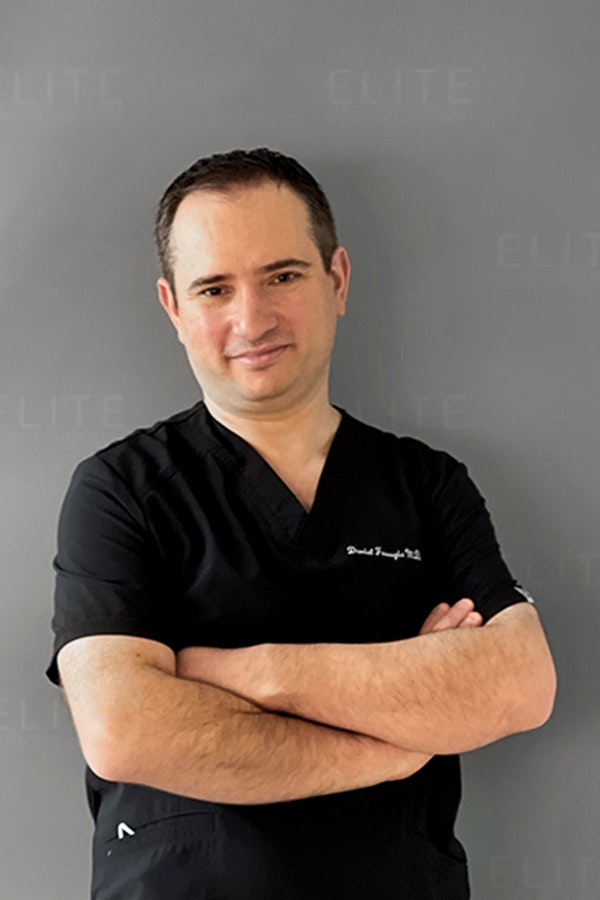 Dr. Farrugia is board certified by the American Board of Surgery and a fellow of the American College of Surgeons. Dr. Farrugia is a deeply caring surgeon who listens carefully to his patients and is dedicated to delivering outstanding cosmetic surgery results. He is committed to providing safe and appropriate care to his patients and continuously strives to maintain up-to-date techniques and the latest innovations. Well-experienced in cosmetic liposuction, Dr. Farrugia has performed over 500 liposuction and body contouring procedures in the past year alone. Dr. Farrugia received numerous competitive awards throughout his career including a prestigious research fellowship award by the U.S. Department of Defense. He is the author of numerous articles of original research in peer-reviewed international medical journals which have been subsequently cited by over 1,600 research teams in their work. He has also presented over 27 works at various regional and international conferences.
Curriculum Vitae
‍
Affiliations
Fellow of the American College of Surgeons
Fellow of the American Academy of Cosmetic Surgery
Illinois State Medical Society
Woodward Surgical Society
Mayo Clinic Alumni Association
‍
Board Certification
American Board of Surgery
‍
Medical School
University of Malta (Malta) – MD, Doctor of Medicine
‍
Graduate School
Mayo Clinic College of Medicine (Rochester, Minnesota) – PhD in the Biomedical Sciences
‍
Internship
Mayo Clinic College of Medicine (Rochester, Minnesota) – General Surgery
‍
Residency
University of Florida College of Medicine (Gainesville, Florida) – General Surgery
‍
Fellowship
University of Pittsburgh Medical Center (Pittsburgh, Pennsylvania) – Breast Surgery
‍
Honors and Awards
Outstanding Academic Achievement Award - Department of Surgery, University of Florida
Breast Cancer Research Fellowship Award – U.S. Department of Defense
Merit Award – presented by the Conquer Cancer Foundation of ASCO
Travel scholarship award by the American Association for Cancer Research
Travel Scholarship award by the Society of Vascular Surgery
‍
‍Publications
Original Papers in Refereed Journals
Farrugia DJ, Landmann A, Zhu L, Diego EJ, Johnson RR, Bonaventura M, Soran A, Dabbs DJ, Clark BZ, Puhalla SL, Jankowitz RC, Brufsky AM, Lembersky BC, Ahrendt GM, McAuliffe PF, Bhargava R. Magee Equation 3 predicts pathologic response to neoadjuvant systemic chemotherapy in estrogen receptor positive, HER2 negative/equivocal breast tumors. Mod Pathol. 2017 Aug;30(8):1078-1085
Brian J Gebhardt, MD; Joel Thomas, BA; Zachary D Horne, MD; Colin E Champ, MD; Daniel J Farrugia, MD, PhD; Emilia Diego, MD; Gretchen M Ahrendt, MD; Sushil Beriwal MD. Is Completion Axillary Lymph Node Dissection Necessary in Patients Underrepresented in ACOSOG Z0011 Trial? Adv Radiat Oncol. 2018 Apr 24;3(3):258-264
Clark BZ, Farrugia DJ, Landmann A, Diego EJ, Dabbs DJ, Puhalla SL, Jankowitz RC, Brufsky AM, Ahrendt GM, McAuliffe PF, Bhargava R. Prognostic Significance of Modified Residual Disease in Breast and Nodes (mRDBN) Algorithm After Neoadjuvant Chemotherapy for Breast Cancer. Am J Clin Pathol. 2018 Mar 7;149(4):332-343
Landmann A, Farrugia DJ, Zhu L, Diego EJ, Johnson RR, Soran A, Dabbs DJ, Clark BZ, Puhalla SL, Jankowitz RC, Brufsky AM, Ahrendt GM, McAuliffe PF, Bhargava R. Low Estrogen Receptor (ER)-Positive Breast Cancer and Neoadjuvant Systemic Chemotherapy: Is Response Similar to Typical ER-Positive or ER-Negative Disease? Am J Clin Pathol. 2018 May 8.
Farrugia DJ, Fischer TD, Delitto D, Spiguel L, Shaw CM. Improved National Quality Database Breast Cancer Care Metrics Following Implementation of a Standardized Tumor Board Note Template. J. Oncol. Pract 2015 11:209-212
Walker LC, Whiley PJ, Couch FJ, Farrugia DJ, Healey S, Eccles DM, Lin F, Butler SA, Goff SA, Thompson BA, Lakhani SR, Da Silva LM; kConFab Investigators, Tavtigian SV, Goldgar DE, Brown MA, Spurdle AB. Detection of splicing aberrations caused by BRCA1 and BRCA2 sequence variants encoding missense substitutions: implications for prediction of pathogenicity. Human Mutation. 2010 Jun;31(6):E1484-505.
Farrugia DJ, Agarwal MK, Pankratz VS, Deffenbaugh AM, Pruss D, Frye C, Wadum L, Johnson K, Mentlick J, Tavtigian SV, Goldgar DE, Couch FJ. Functional assays for classification of BRCA2 variants of uncertain significance. Cancer Research. 2008 May 1;68(9):3523-31.
Sakai W, Swisher EM, Karlan BY, Agarwal MK, Higgins J, Friedman C, Villegas E, Jacquemont C, Farrugia DJ, Couch FJ, Urban N, Taniguchi T. Secondary mutations as a mechanism of cisplatin resistance in BRCA2-mutated cancers. Nature. 2008 Feb;451(7182):1116-20
D'Assoro AB, Busby R, Acu ID, Quatraro C, Reinholz MM, Farrugia DJ, Schroeder MA, Allen C, Stivala F, Galanis E, Salisbury JL. Impaired p53 function leads to centrosome amplification, acquired ERalpha phenotypic heterogeneity and distant metastases in breast cancer MCF-7 xenografts. Oncogene. 2008 Feb 11
Lovelock P, Spurdle A, Mok M, Farrugia DJ, SR Lakhani, S Healey, S Arnold, D Buchanan, kConFab Investigators, FJ Couch, BR Henderson, DE Goldgar, SV Tavtigian, G Chenevix-Trench and M Brown. Identification of BRCA1 missense substitutions that confer partial functional activity: potential moderate risk variants? Breast Cancer Research. 2007 Nov 26;9(6):R82
Wu K, Hinson SR, Ohashi A, Farrugia D, Wendt P, Tavtigian SV, Deffenbaugh A, Goldgar D, Couch FJ. Functional evaluation and cancer risk assessment of BRCA2 unclassified variants. Cancer Research. 2005, Jan; 65(2):417-26.
D'Assoro AB, Busby R, Suino K, Delva E, Almodovar-Mercado GJ, Johnson H, Folk C, Farrugia DJ, Vasile V, Stivala F, Salisbury JL. Genotoxic stress leads to centrosome amplification in breast cancer cell lines that have an inactive G1/S cell cycle checkpoint. Oncogene. 2004, May; 23(23):4068-75.
Taniai M, Grambihler A, Higuchi H, Werneburg N, Bronk SF, Farrugia DJ, Kaufmann SH, Gores GJ. Mcl-1 mediates tumor necrosis factor-related apoptosis-inducing ligand resistance in human cholangiocarcinoma cells. Cancer Research. 2004, May; 64(10):3517-2